Top children's entertainer Bishopthorpe and surrounding villages. 
We provide children's entertainment for birthday parties', fete's, village fairs, museums, schools and outside events with a children's entertainer Bishopthorpe.
All our entertainers are fully insured and D.B.S compliant.
Children's entertainer Bishopthorpe
2 hour birthday party packages Bishopthorpe
You'll get to watch your child have a fabulous time! You don't need to worry about a thing, Allow your children's party hosts to organize the children's entertainment for you. Leaving you stress free and able to enjoy the event. A choice of children's magic show or puppets will keep the children entertained, happy and having fun!
Invite the whole class and let us make your party wonderful with Big smiles and laughter, as our experienced entertainers provide more fun than you can shake a stick at! Top children's entertainer Bishopthorpe. 
Magician for children's entertainment in Bishopthorpe
5 star ***** reviews on facebook:
Helen Rowson  5*****
"Mark brought his show for my 6 year old sons joint party and everyone thoroughly enjoyed it, parents and kids. The games,dancing,magic and silly humour brought smiles to everyone's faces especially when the parents joined in the fun. All the kids were in awe of Mark who had a great grasp of his audience and had their 100% attention which is quite a skill for a hall full of 6 year old with all their energy! Thanks for giving the boys a great party, would recommend to all!"
Birthday party magician Bishopthorpe
2 hour party package / Magic and disco fun!
Mark brings everything needed including disco lights, music, prizes and magic show.
He takes over the children's entertainment for you, leaving you stress free and ready to enjoy the party!
New games and traditional such as musical statues are all organized for you.  Non-elimination games are typically played, so no one is ever out and no tears! 
A live magic show brings laughter,  smiles and some wow moments! Top children's birthday party magician for Bishopthorpe.
Magician for outside events and schools in Bishopthorpe
Mark can be booked to do a 2 hour birthday party package or individual shows for festivals, galas, museums and outside events. 
children's entertainer Bishopthorpe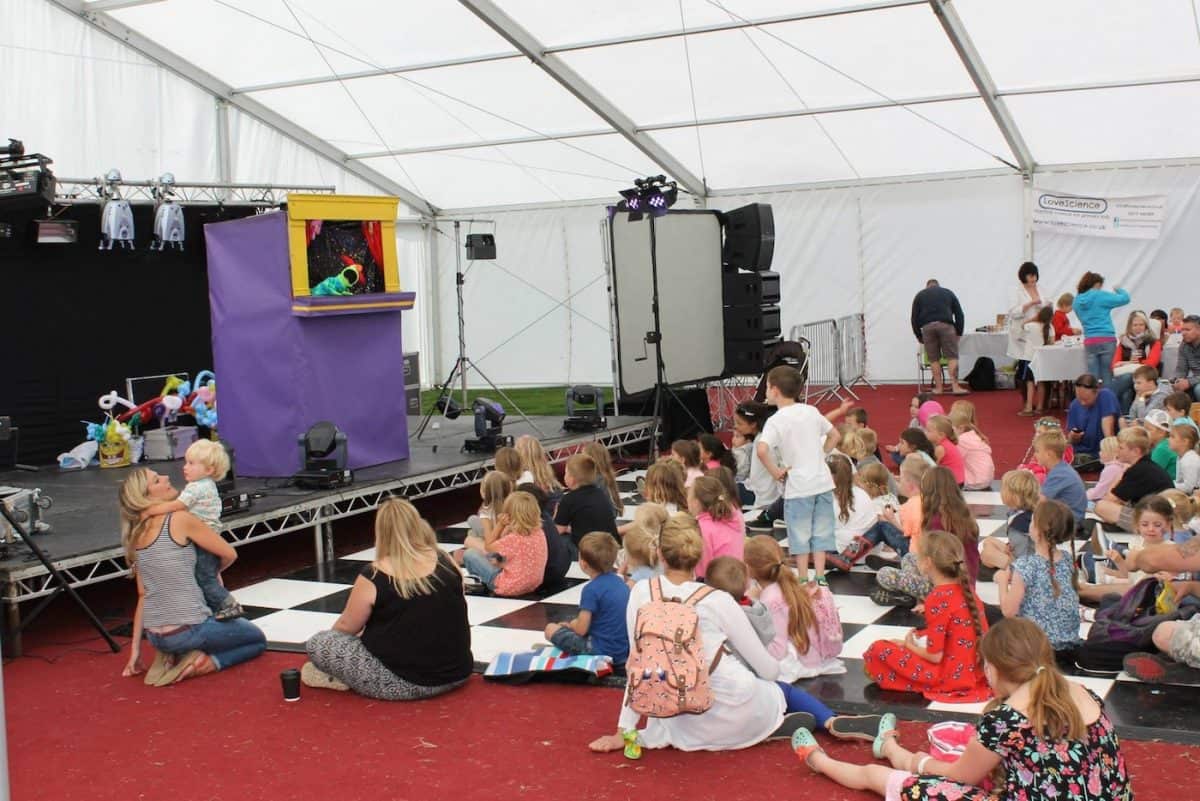 Children's entertainer Bishopthorpe with a full puppet show and face painting. Inspired by the muppets!
Amanda Smith 5*****
"We had the puppet show for my daughters 5th birthday and it was absolutely fantastic. The staff were so good with all the children always smiling and very friendly. All the kids and adults had a fantastic time with all of it. So thank you guys so very much for making my daughters day one to remember" 
puppet show package Bishopthorpe / 2 hours of fun!
The show comes complete with lights, music and bubble machine ending.
Our hosts organize the face painting,  games, dances, prizes and provide a complete stress free entertainment package!
The puppet show can be enjoyed by any age group as it's full of music, colour and mayhem. Even a little toilet humour "beware mums! The kids will probably roll all over the floor with laughter"! The final of the show is a bubble machine.
Ana's puppet package includes face painting, plate spinning, disco, games, prizes and puppet show and balloons Animals. 
"Fantastic entertainer! Mark had all of the children engaged from the second they arrived and everyone thoroughly enjoyed the whole party. Would highly recommend".

Had at my wedding and was amazing as always 🙂 xxx

Absolutely perfect for a child's birthday. Mark had 15 4 to 8 yr old children beside themselves with laughter and awe (and the parents too!). We all loved his show.
click here to check availability
"We take over the entertainment, so you don't have to"