Children's entertainer Barnsley
Top entertainment for children's birthday parties, schools, fetes, galas or outside events in the Barnsley area. A choice of Magic or puppets with our children's entertainer in Barnsley. 
All our entertainers are fully insured and D.B.S compliant.
Kids party entertainer in Barnsley
2-hour party packages
Watch the smiles and take in the laughter. Make memories that will last forever. A party where you have time to enjoy, as our entertainers take over the entertainment from the start.  A trusted children's party entertainer in Barnsley. 
You can relax as our entertainers take over the party entertainment with a choice of magic or puppets

. 
Book now for the best kid's birthday party entertainment in the Barnsley area.
Stress-Free Party packages can include: 
Party host,
A choice of magic or puppet show,
Disco fun with Organised games & prizes,
Limbo dancing
Plate Spinning, 
Balloon animals and so much more…..
Great value! Entertain the full class!
"Thank you so much to Mark for an amazing party at the weekend for my son's 8th birthday. All the children loved it, as did the adults! Great set-up, super magic and fun party games. Highly recommend it and hope to book another party with you in the future!
Thanks again!! "
Jo Cooper
"What a fantastic day we've just had with Mark entertaining our son's 5th birthday party! Thanks for making it so special and entertaining all the kids and adults too. Couldn't have chosen a better person x"
Lesley Turner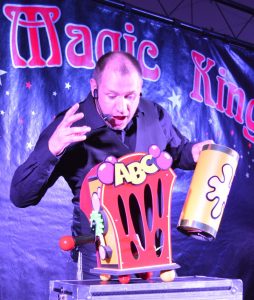 Children's entertainer Barnsley, performing silly magic.
2-hour packages with a magic show and disco fun! 
 Your party will be one of the best any of the guests will have been to!
What's included? 
Organised 

Party dances,
Organised Games with prizes for the competitions,
 

Plate spinning,
 

Limbo dancing station,
Balloon animals for the birthday child,
Magician,
Magic show with audience participation and the birthday child helps in the show!
Children's entertainer Barnsley – Puppet show
"booked for my daughter's 5th birthday, it was absolutely amazing!!!! the puppets were amazing and the party prizes were great…. the two ladies that were involved were so friendly and the kids loved them. it's was a lot more than what I expected! highly recommended. thank you for making my daughter's birthday amazing "  
Amanda Taylor
2-hour Puppet show package for Hull & surrounding villages:
Your birthday party entertainment is taken care of from start to finish. Our entertainers arrive and set up before the first guest arrives, with music and disco lights, Plate spinning, Organised games, dances and a wonderful puppet show with a mega bubble machine ending. Stress-free party entertainment by experienced top-party entertainers.
What's included? 
Party Host
Disco fun with music and lights,
Organised party games,
Organised party dances, 
Prizes for competitions included,
Plate spinning,
Puppet show with a bubble machine ending
Professional Limbo station, all Organised.
Balloon animals for all the kids to take home and so much more…..
"Great Value"!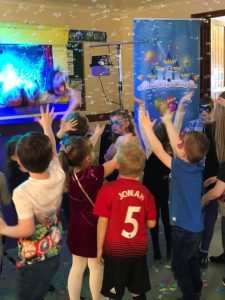 Bubble machine fun! 
"Fantastic entertainer! Mark had all of the children engaged from the second they arrived and everyone thoroughly enjoyed the whole party. Would highly recommend".

Had at my wedding and was amazing as always 🙂 xxx

Absolutely perfect for a child's birthday. Mark had 15 4 to 8 yr old children beside themselves with laughter and awe (and the parents too!). We all loved his show.
"More affordable than you might think!"