[cws-row cols=1 id="cols1″][col span=12][cws-widget type=text title="Children's entertainer Selby"]
Children's entertainer Selby
Who we are?
We are a family run children's entertainment company , that can provide a children's entertainer with a magic or puppet show in the selby area. We entertain at special occasions, including birthday parties, weddings and christenings.
Other events & occasions we perform at:
Galas, Food festivals, Beer festivals, Schools, Garden party's, outdoor events, house warming parties, any festive occasion including Christmas parties.
Children's entertainer Selby
What makes the best birthday party entertainment?
We think it's a complete 2 hour party package!
Supplying the best in kids party entertainment with a complete party entertainment package, which could Include Magic show, puppet show, face painting, plate spinning, balloon models, party games, dances and kids disco.
Our children's party package are organised by our top children's entertainers, with years of experience.
Fully insured & DBS compliant.
Wanting stress free party entertanment for your party in Selby?
"We provide the complete kids entertainment package for your kids birthday parties."
So what would you need for a great party?
The best children's music for the correct age groups,

A knowledge of the best party games to play,

Prizes for different age groups,

light and music equipment, High Spec for great sound quality.

Lots of knowledge and expereince from over 15 years of perfoming at parties
You don't have to worry about any of that, we've got it all covered for you!
You'll get a chance, to watch your child have a fabalous time!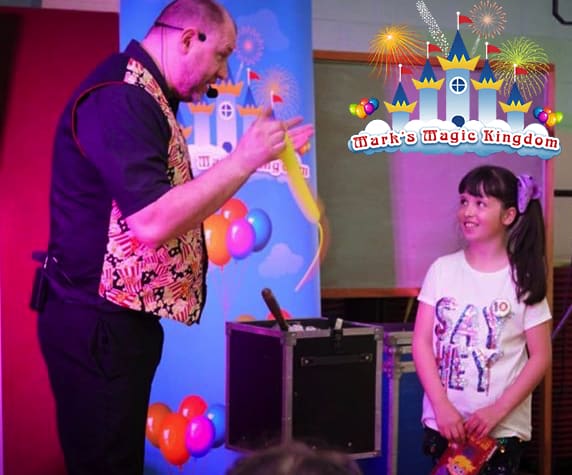 5 star ***** reviews on facebook:
Helen Rowson 5*****
"Mark brought his show for my 6 year old sons joint party and everyone thoroughly enjoyed it, parents and kids. The games,dancing,magic and silly humour brought smiles to everyone's faces especially when the parents joined in the fun. All the kids were in awe of Mark who had a great grasp of his audience and had their 100% attention which is quite a skill for a hall full of 6year old with all their energy! Thanks for giving the boys a great party, would recommend to all!"
Lizzie Evans 5*****
"Absolutely perfect for a child's birthday. Mark had 15 4 to 8 yr old children beside themselves with laughter and awe (and the parents too!).
We all loved his show."
Amanda Smith 5*****
"We had the puppet show for my daughters 5th birthday and it was absolutely fantastic. The staff were so good with all the children always smiling and very friendly. All the kids and adults had a fantastic time with all of it. So thank you guys so very much for making my daughters day one to remember"
Both packages are brilliant, both offer different types of entertainment:
See our Facebook reviews: Click here
"We take over the entertainment, so you don't have to"

[/cws-widget][/col][/cws-row][cws-row cols=1 id="cols1″][col span=12][cws-widget type=callout title="Ready to book?" c_btn_href="/contact/" c_btn_text="Contact us."]

check your date!

[/cws-widget][/col][/cws-row][cws-row cols=1 id="cols1″][col span=12][cws-widget type=text title=""] [/cws-widget][/col][/cws-row]