[cws-row cols=321 id="cols321″][col span=8][cws-widget type=text title="Mark's Magic Kingdom. book a children's entertainer for Thorpe Willoughby with us!"]
Welcome to Mark's Magic Kingdom, we provide entertainment for parties and outside events.
Birthday Parties, Galas, Community events, outside entertainment,
Children's entertainer Thorpe Willoughby
Supplying the best in kids party entertainment with a complete party entertainment package, which could Include Magic show, puppet show, face painting, plate spinning, balloon models, party games, dances and kids disco.
you can also book a childrens entertainer in Selby
Children's party package all organised by our top children's entertainers, with years of experience.
Fully insured & DBS compliant.
Stress free party entertanment for your party in Thorpe Willoughby village hall.
We can provide an easy to organise birthday party with all the kids party entertainment taken care of.
You'll get a chance, to watch your child have a fabalous time!Info:
our 2 hour packages are not suitable for house parties
Children's Magician
Thorpe Willoughby
Magic Mark is a profesional magician who performs at birthday parties, schools, galas and outside events in the Thorpe Willoughby area.
Magic mark is an award winning magician who has appeared on Braitain's got talent before the judges with his robotic mime and magic,
With over 20 years of experience as an entertainer, you guests will be totally amazed and entertained.
Winning the stage competion in magic 3 years in a row.
Mark has 4 children, but says its easier to entertain 100 kids!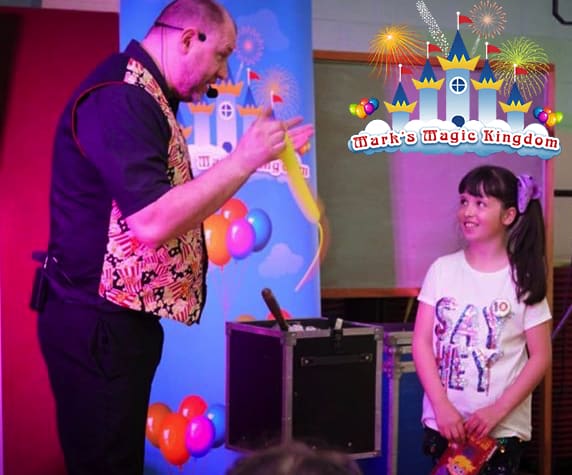 Kids party entertainment in Thorpe Willoughby
Face painter /
Thorpe Willoughby
Our puppet show package comes complete with face painting, all our paints have a EU kite mark on and are water based.
All our face paints come off easily with soap and water.
Our face painters come with the puppet disco package, but can also be booked for all day events at outside shows, galas, store openings etc.
Puppet show/
Thorpe Willoughby
Ana is our pupeteer and has been performing her shows for over 10 years. Ana is crazy about The Muppets, so the full show is inspired by Jim Henson.
No punch and judy, or something hideous made out of paper and glue here. Most of Ana's puppets come from America and are made by one of the best puppet makers in the world.
The shows are a mix of silly sketches, music, singing and jockes. The puppets come in their own little theatre with lights and sound system.
The show concludes with a bubble machine ending.
Book now!
What parents say about our kids shows.
5 star ***** reviews on facebook:
Helen Rowson 5*****
"Mark brought his show for my 6 year old sons joint party and everyone thoroughly enjoyed it, parents and kids. The games,dancing,magic and silly humour brought smiles to everyone's faces especially when the parents joined in the fun. All the kids were in awe of Mark who had a great grasp of his audience and had their 100% attention which is quite a skill for a hall full of 6year old with all their energy! Thanks for giving the boys a great party, would recommend to all!"
Lizzie Evans 5*****
"Absolutely perfect for a child's birthday. Mark had 15 4 to 8 yr old children beside themselves with laughter and awe (and the parents too!).
We all loved his show."
Amanda Smith 5*****
"We had the puppet show for my daughters 5th birthday and it was absolutely fantastic. The staff were so good with all the children always smiling and very friendly. All the kids and adults had a fantastic time with all of it. So thank you guys so very much for making my daughters day one to remember"
You have a choice "Magic package or puppet package?"
Both packages are brilliant, both offer different types of entertainment.
See a clip of the shows:
"We take over the entertainment, so you don't have to"
Children's entertainer
Thorpe Willoughby
Fun days, Parties, Galas, Christmas parties, Nursery leavers party's, School shows.
[/cws-widget][/col][col span=4][cws-widget type=text title=""]

If your a P.t.f.a member for the school? ask about our magic show and have a break from the regular disco!

See our 5 star ***** Reviews for our kids entertainment on Facebook.

Click here [/cws-widget][/col][/cws-row]